StretchShop
fast & scalable e-business
---
Innovative open-source platform for building e-business
with Micro-services, Customization, and Speed in mind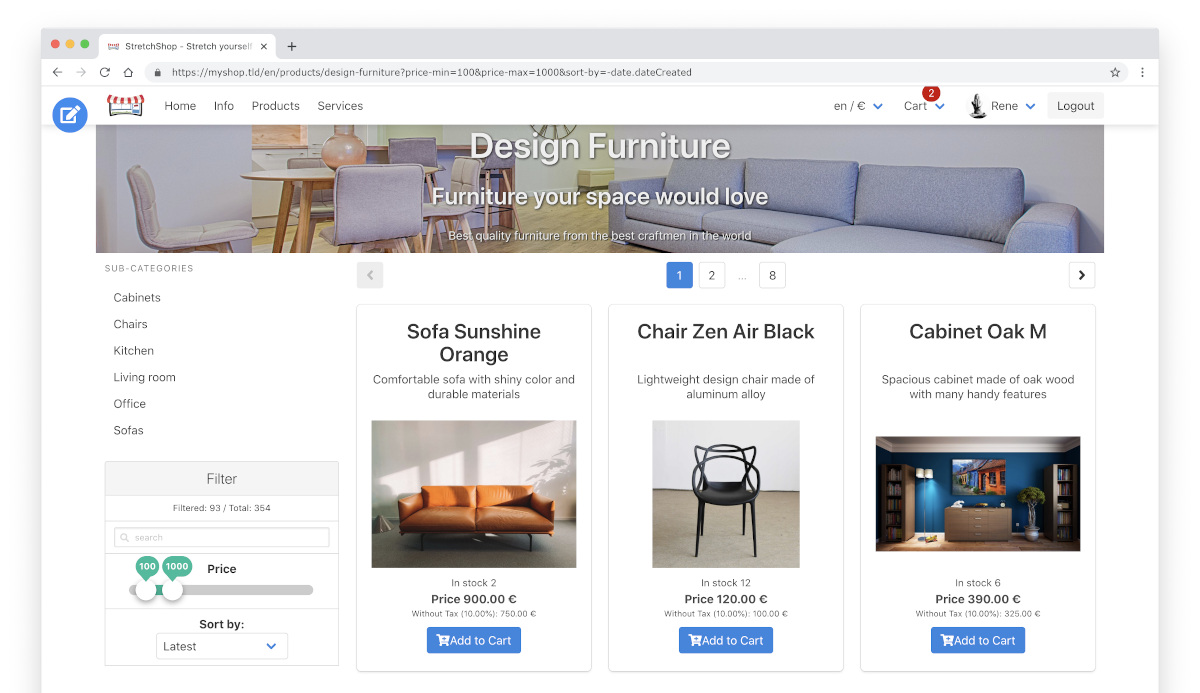 Speed
Lightweight base, robust performance
Data are crucial fuel of business - data source needs to be scalable,
reliable, with great performance, and flexible schemas to fit exceptional
data of unknown future. Choose NoSQL MongoDB.
Platform and engines to power ideas - narrowing tech stack to drop
expenses, with a high-speed machine that's easy to run, scale, and
modify on the run. JS world of Node.js, Moleculer & Vue.js.
Crunchy Front-end
Vue.js for fast and small application
Buefy for easy to use UI components
Buy Faster
Build-in product Search & Filter,
3 Steps Order process
JSON REST API
Designed for REST API communication
with speed and compatibility in mind
---
Scalability
Grows from monolith to microservices
There's no need to choose between micro-services and monolith.
Get them both. And anything in between, no need to change the techs.
Start with Monolith, grow into Mixed and launch Micro-services
when you hit the enterprise — everything to your's business needs.
Dockerized
Run every service or group in a container
and scale their instances in your Swarm
Molecules
Moleculer is a fast, extensible, open-source
micro-services framework that does a lot of magic
Service-based
Every part of your business as a service
that can be grouped and balanced
---
Localization & Currencies
Translate strings and localize pages, email, and PDFs, use multiple currencies
Emails & PDFs
Modify prepared templates for emails and PDF (registration, order, invoice)
Demo to Play with
Products, categories, pages, and settings - all that to check how it works
Responsive design
Ready to for any screen with Bulma framework and Buefy components
---
Usability
Better experience for all the roles
The visitor wants to get answers & actions fast. The user wants to have the comfort of the club. Administrator wants to have control without technical details.
Developer wants easy to use environment, standard tools, and nerdy options. The mission is to make it easy to use for all roles.
Visitor: It should be easy
Trying to make it as simple as in a real shop,
look around, count prices, and get it
Admin: Simple content management
Whether Product, Page or Category, create new or
click Edit Icon while seeing it in the final design
Developer: Good Techstack
Narrow stack of industry-standard technologies,
extensible, prebuild, JS-based, easy to learn and use
---
Savings
Helping your business to grow
Having one language for whole logic saves personnel expenses.
One developer can manage start-up, and when a business grows
developers of different parts can still help each other very well.
Business changes fast these days and in an online world
having an open-source solution, that can adapt to different situations, saves money, that company could use elsewhere.
Reduce the cost
Narrow tech stack, small ascetic app,
no subscriptions, lifelong licence per domain
Grows with you
No need to change solution as you grow
saves your time and resources
Open-source
Opened to participation and improvements,
with the base for freedom and sharing